If 2020 was nothing else, it was a year to level up and thrive in podcasting.
The podcast industry's efforts to reach a wider spectrum of listeners are paying off. An analysis of the podcast audience by Nielsen Podcast Buying Power Service finds the medium's listeners are now more diverse than the population overall, despite a growing reach that is bringing in a greater number of listeners of all age groups.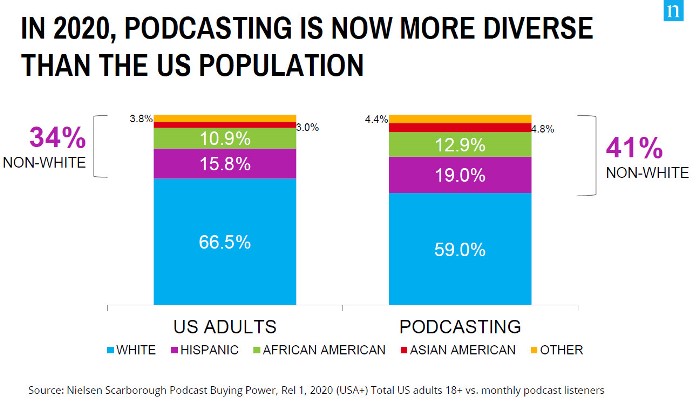 Nielsen reports 41% of monthly podcast listeners aged 18 and older are non-white. That includes 19% who identify as Hispanic and 13% that are Black. That compares to the overall U.S. population that is 34% non-white.
Several podcast publishers have made special efforts to appeal to non-White audiences.
iHeartMedia is launching a podcast network targeting the Latinx community. As they say, it will be a top priority in 2021. This, after the launch of The Black Effect Podcast Network in 2020. It earlier set a goal of investing half of its new shows from diverse creators in 2020 and beyond. This including women, African-Americans and Hispanics.
The Nielsen data shows no ethnic group has grown at a faster pace than Hispanics. The number of podcast listeners among that demo growing six-times since 2010. Podcasting's reach among Hispanics has increased from 1.1 million to 6.8 million. This among those who said they had listened to a podcast in the past 30 days.
Businesses take note. The data reveals that Black and Hispanic podcast listeners were more likely to report visiting a retail location that they heard as a sponsor in a podcast than were Whites. And both Black and Hispanic podcast listeners were more prone to have called a telephone number they heard mentioned in a podcast ad.
All this leads up to the main reason for this podcast episode.
We are proud to announce that Circle270Media Podcast Consultants are partnering with a new podcast, Level Up And Thrive. This podcast's host is Yasmine Robles. She is the owner of Robles Designs ("Creators of drool-worthy websites for small business hell-bent on taking over the world").
As she explains in this episode of TriVillage Chamber Partnership's Business Inspires podcast, the focus will be on the LatinX business community in and around Central Ohio.
And here she talks about how she came up with the name for the podcast, Level Up And Thrive.
We are targeting February 2021 as the launch month. We will keep you updated on our websites, Note To Future Me, and Circle270Media.
Circle270Media Podcast Consultants are working with new companies every month who are progressively implementing podcasting into their overall marketing strategy. Our focus is to make sure their content matches their company branding and culture.
Let's talk about what podcasting can do for your business in 2021. Whether your B2C or B2B, we can create a content marketing strategy that will work for you.